Graphic Design Education Options
A lot of aspiring graphic designers, especially those who decide they want to be designers after high school, ask the same question: What school should I choose? There are a variety of graphic design education options. (Note: The following are merely opinons. Please consider your circumstances and options when choosing the institution for you.) Today we take a look at four graphic design education options:
---
---
Choice #1: Four Year University, State College, Private Art School
One of the most common graphic design education options is majoring in graphic design or fine art at a 4-year university, art college or state college. This is usually a pretty safe bet in terms of getting a good education.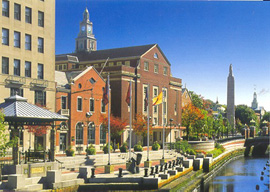 Examples: Universities and state colleges: Syracuse University, San Jose State University, University of Arizona. Highly rated art colleges include the Rhode Island School of Design, Savannah College of Art and Design, or Art Center College of Design in Pasadena.
Pros: Great balanced education, good networking, generally high standards. You'll have a portfolio in the end that should be good enough to apply for entry level jobs out of school. Of course, your talent has a lot to do with your success.
Cons: You must satisfy all the requirements and be admitted to a university. Depending on when you attend, these include having high school transcripts, a HS diploma or GED, and of course, the money to attend. In some cases, even if you are attending a university, you will need to be good enough to get into the graphic design program. Some programs have a limited amount of spaces for new students. You may have to compete quite a bit depending on which school you choose.
Costs: Costs vary greatly. You can get an idea by visiting the university's web site and taking a look at their tuition costs. A 4 year state college for a resident student can cost up to $5000 per semester, depending. If you're classified as out-of-state, expect to pay 2-4x more for tuition! Financial aid may also be available.
Opinion: A 4-year university or presigious art school is an excellent choice if you can do it. Look for universities that have good design programs, not just ones that are near you. See if you qualify for financial aid or scholarships. Make sure you research your faculty to make sure they have extensive experience in the area in which they are teaching at the college. (More on faculty in the next section.)
Choice #2: For-Profit Trade School
---
---
Other graphic design education options are less desirable if one skipped college, or wanted to change careers: the dreaded for-profit trade school. In terms of graphic design, we feel that a trade school is your worst option. See Cons below.
Examples: Art Institute, Collins College, Westwood, ITT, UEI, Coleman College.
Pros: We don't see any pros to attending for-profit schools.
Cons: The biggest issue with for-profit schools is that they are just that: for-profit. Which means that educational standards are lowered so that they can get as many people in and out of their doors as possible, so they can make more money. Many use high-pressure sales tactics to lure poor or uneducated students to enroll. Their claims of easily getting a job with the degrees their companies hand out is often inflated and inaccurate. Many for-profits do not offer the foundational art courses a designer needs to be successful. Many for-profits focus on software, which is the absolute worst way to learn how to be a good designer. (Why? Read "What is graphic design" for more info.)
I recently interviewed a student at a for profit art school, who told me in his design program, he did not have to portfolio into any of his classes. What does that mean? It means that they will accept almost ANYONE, even those who aren't good enough to be in the program. If you are an aspiring designer, and you're competing against students who have no talent, you may get the false sense that your work is really good, you know enough about software, and you'll easily get a job in the industry. But don't be fooled. Overall, these schools are for-profit machines (often referred to as "degree mills") that don't care about the quality of graduates or design philosophies they are espousing. (Note: there's even a site out there calling to sue the Art Institute. See links below.)
Faculty: Another way to measure the promise of a program is to vet the professors and faculty. If you're lucky, you'll have professors who have functioned in the design world at high levels, working in the top firms or owning their own agencies. There are plenty of great working creatives who are teaching at the university level, but not as much in the for-profit arena. Interview your faculty and ask them questions such as, "Which design agencies have you worked for? For how long? At what capacity?" Then research those agencies. Email them to verify. There's nothing worse than being taught by someone with a non-existent design career.
Costs: Costs are high. The students I spoke to said they paid over $70,000 for their for-profit Bachelor degrees. It makes no sense to choose a for-profit school of any kind when you can get a better education at a university or even our next choice, the junior college. We priced out a Bachelor's degree at the Art Institute (Los Angeles location) and it cost $96,140! (see screenshot of the Art Institute caclulator) Our opinion is that the for-proft route is more expensive, but offers a lower quality education.
Opinion: After reviewing several bad resumes and portfolios over the years, and even after hiring for-profit graduates personally, our opinion is that students and parents alike should avoid these types of schools if you are serious about getting a good, affordable design education.
Outrage towards for-profits online (external links):
---
---
Choice #3: The Junior/Community College
For many, community college is an excellent choice for students just out of school and those looking to make a career change.
Examples: Every city has one. Google your city and "community college" for results.
Pros: Community college is great because its costs are much lower than the alternative university and for-profit colleges. Many community colleges design programs are taught by experienced, practicing artists and designers who have education from some of the most prestigious universities in the country, including UCLA, Syracuse, and USC. Many community colleges have transfer programs that guarantee students admission into 4-year universities, which is great. Community college students are given good tools and support to continue their higher learning.
Another advantage is that while you're taking foundational art classes (a must for any designer), you can also take general ed classes that count toward a well-rounded Bachelor's degree elsewhere. Very often, the cross training influences your design sensibilities, business skills and knowledge. Like art history, business marketing, and even accounting can be helpful courses for a would be graphic designer.
Cons: Only lower level foundational art classes can be taken at the junior college level. Advanced design courses are only available at a higher level university. Also, before you enroll in a junior college graphic design program, make sure your classes will transfer to the university you have in mind.
Costs: Costs are usually lower than a university. Unless you're out of state, in which the prices can go up significantly. But that's not always the case. Best to check with your admissions office if you plan to go to school out of state. Here's an example of a tuition table for De Anza College in Cupertino, California (as of February 9, 2013).
Opinion: If for some reason you're unable to attend a 4-year university right away, a junior college is a great alternative. And low cost, too. I know some community college graphic design programs that are even regarded as better than their local university counterparts!
---
Choice #4: Become Self-taught
Don't discount the possibilities of being self-taught in graphic design! Learning is life-long, and you'll hopefully use this option to keep up to date on design practices and trends. A number of great designers today are self-taught. They spend there time reading blogs, tutorials, videos and how-tos about graphic design. They might attend a design workshop in their community or at a conference. They might talk to other designers in online communities like Tumblr, Facebook, coroflot, or dribble. And they definitely are reading articles like this one!
Pros: If you're just starting out in design, teaching yourself won't give you a degree, but it won't give you a fat student loan bill either. If you learn best in an unstructured environment, then definitely go the self-teaching route.
Cons: If you decide not to go to college, you miss out on networking, resources and opportunities the university offers, job placement assistance, and being in the physical proximity of other designers. You also miss the guided leadership of a true design professional who will serve as your art director and give you criticism on your work. That will be an experience that is very much like working in a real-world design firm (not from your kitchen table with your Mac Book).
Costs: For being self taught, your costs will mostly be measured in time. Be prepared to give a lot of it. You might also have to pay for your own learning tools, computer, internet connection, etc, but I gather you already have all that. If you're doing traditional design work, you'll need a good printer, paper stock, exactos, cutting boards, moutning boards and sprays, etc. Workshop and conference fees may apply if you choose to indulge. Website memberships are also a possibility, though many things you can get for free online.
Opinion: Start googling the areas you want to research. It's as simple as that. Amazon has a great number of drawing books. Check out A List Apart and W3C.org for CSS tutorials and website design. Once you spend time researching, you'll start to levitate toward certain design communities and meet others who are self-teaching. Connect and expand your design network!
If you can't decide on one choice on this list, maybe a combination of them may be just what you need to get started to be a great designer. Best of luck!
Follow us on Twitter: @graphicdesign23 for updates on new graphic design articles, designs and more.